Yeah - I lied.
Again.
I blame it on the Evan Gattis RC and all of those teasers on Twitter! Seriously, it's not my fault....
There are, however, some silver linings to all of this:
- I will show more than one card in a post
- I listened to my brain and used math to realize that 2 hanger boxes are better than 1 blaster (for me)
- It was a lot of fun
- Now I don't have to buy any more retail this year.....seriously!
I walked into WallyMart on the way home from work. Like a zombie, I headed towards the card isle with the intent to only buy - get this - one or two "loose" packs. That's all I was going to snag. Just for old times sake, just to get a taste of the new and scratch the itch.
But then I thought - how much of a taste can you get from two loose packs? How about a BLASTER? At least you know you'll get a cool cereal box manupatch prize!
"NO!" my brain yelled. "You can get almost TWICE the cards for half the price if you go with two "Hanger" boxes.
Normally, my illogical heart would snag a blaster and giggle at this point but something made me pause this time. The math was too much to overcome and images of disappointments during release rippings past flooded back.......
Two Hanger boxes it was! For the price of a blaster.
Ryan 1, Card Gods 0.
No more delay - the goal was a Gattis rookie card. Could I pull it off with 200+ cards to flip through?
Let's see!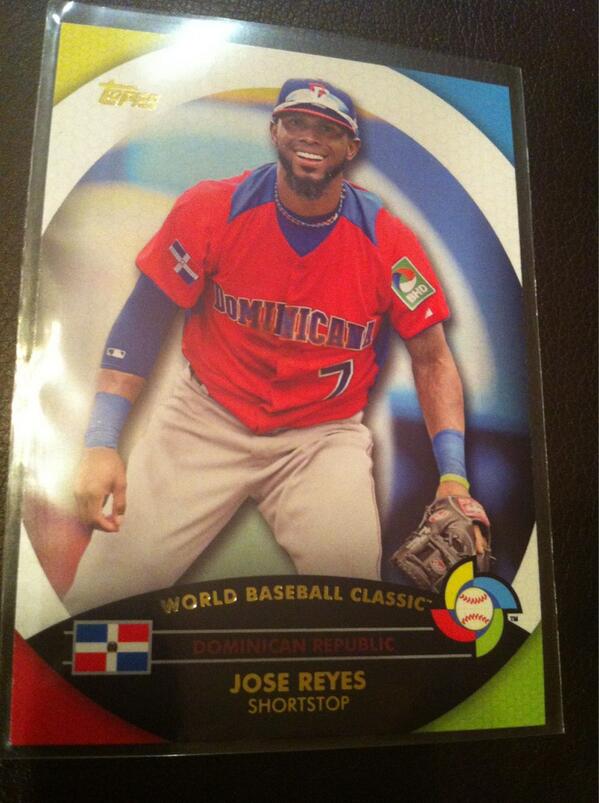 First insert - #1 of the WBC subset. Reyes. Colorful. Enjoyable to pull. Won't be collecting.
"Greinke Face" made me laugh. I referred to Greinke Face in a tweet last night, promptly received a @NightOwlCards "hoot" and that made me happy. An example of why baseball cards are awesome, even a (GASP) base card! Next: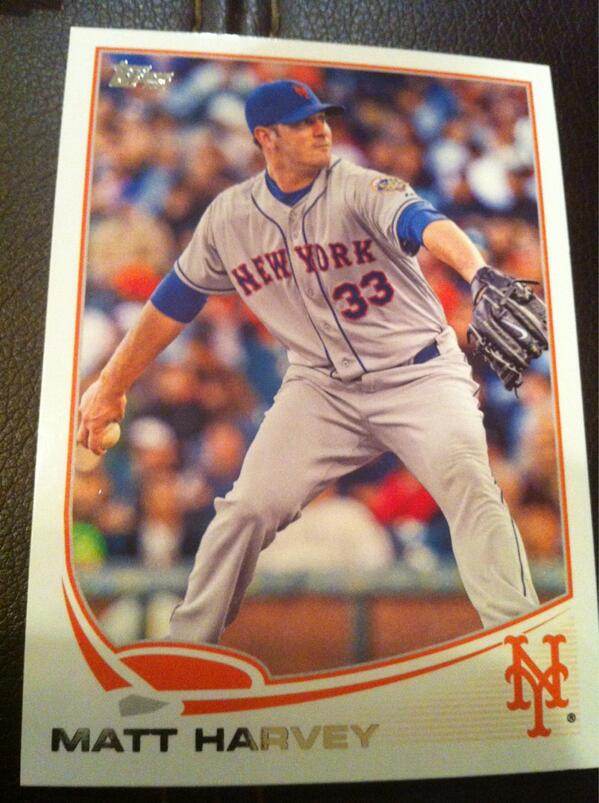 Harvey beat my Braves this week. Boo, Harvey! He's pretty good, though. Promising future with his buddy Wheeler. We'll see!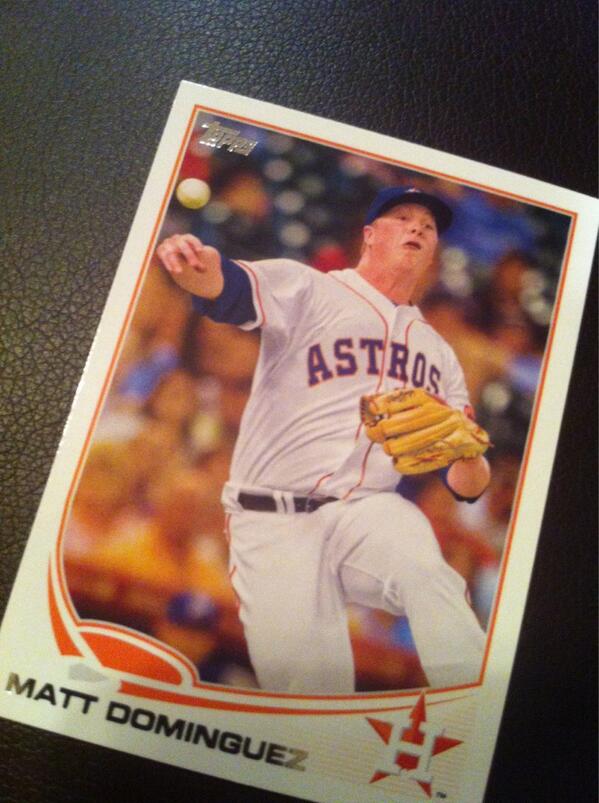 Easily the most awkward, painful looking "baseball" face I can think of. Dominguez is on his way up, though. Marlins used to have him, yes? I think the Astros' strategy is materializing before our very eyes.

Simple but pretty. Should have been a Yankees card. I kid!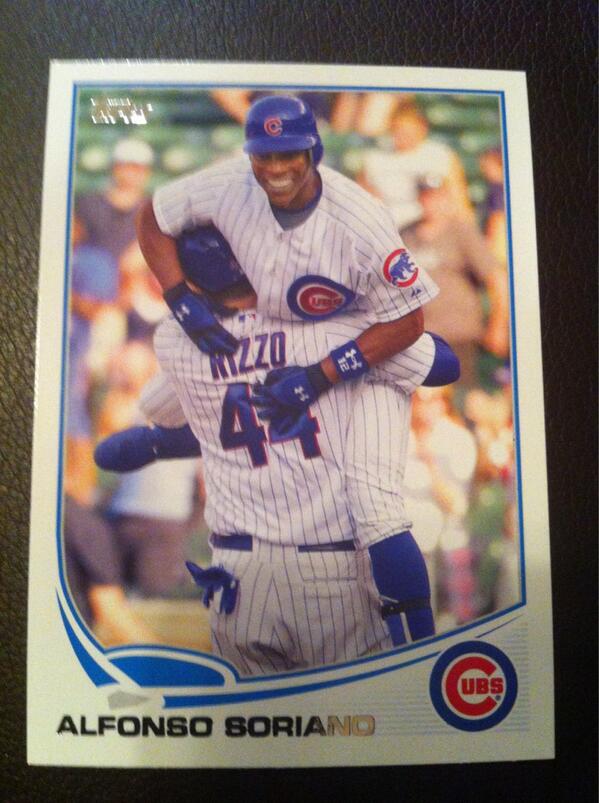 BONUS RIZZO! Woo-hoo! Trust me, this is the only Soriano card that is penny-sleeved in my collection. I think.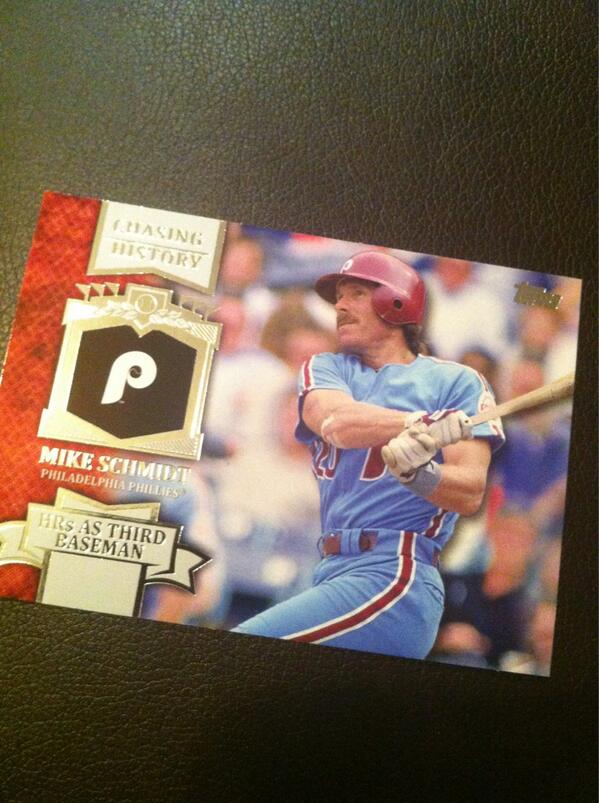 Standard. By the end of Series 2, these kinds of inserts run their course for me. This Schmidt is pretty sharp, though. Good colors - and I still must commend Topps for ensuring this year's inserts don't look like a waste of space for we who never pulleth autographed versions.....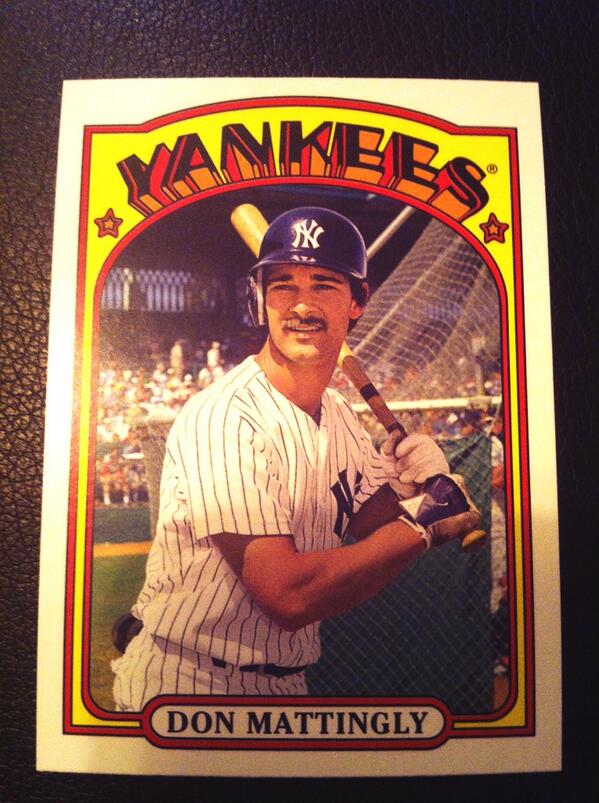 HOLY MOLY!!!!!! MATTINGLY!!!!! '72 MINI!!!!! I didn't even know he made the insert set so this was a complete and utterly pleasant surprise - and there is no better feeling than that when you're busting baseball cards! YES! Player Collection!!!! Favorite card so far......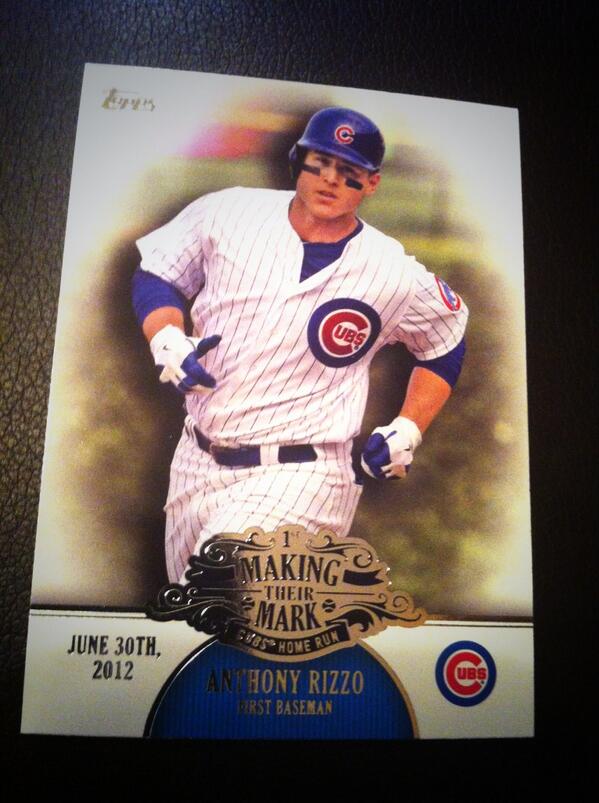 BACK TO BACK FAVORITE PLAYER INSERTS?!?!?!?! As we say down here - OH LAWDY....okay, pretty boring shot of Rizzo, but I love cards that mark a certain event, game or date. This card commemorates Rizzo's first HR as a Cubbie. Love the stamped foil. To the growing Player Collection it goes!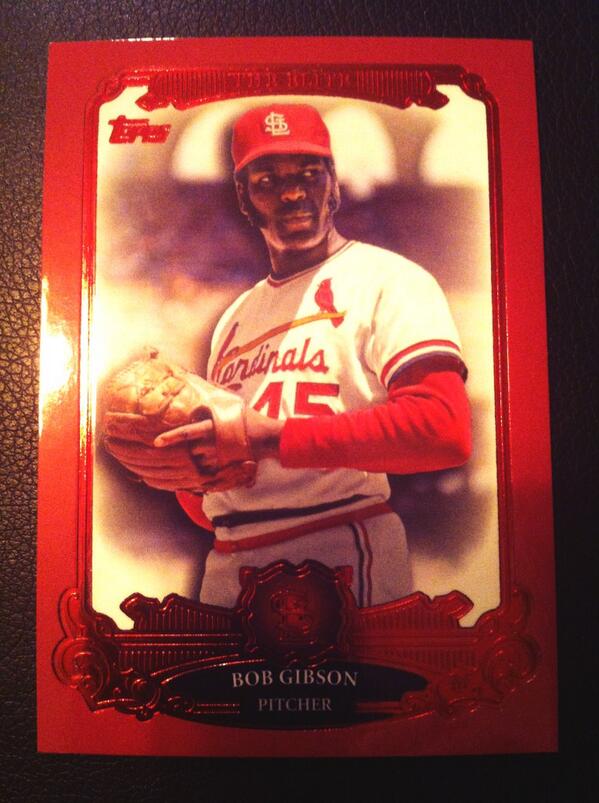 This is probably the card that most of you would consider to be the "HIT" of the day. I'll always take my favorite guys' base cards over something like this.....BUT....this card is very nice. It's really thick stock: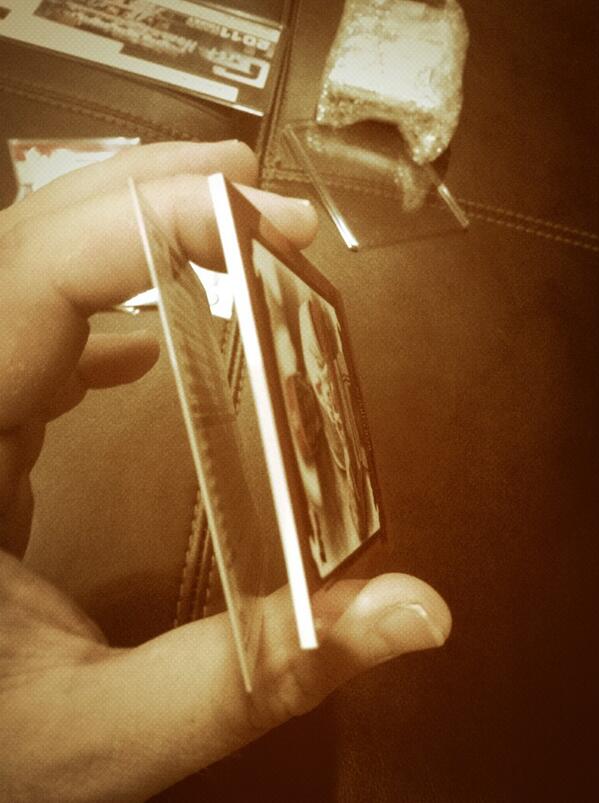 Notice the dramatic shift to sepia? (laugh) Very thick, bright/sharp color scheme on the front with a strong shot of classic Gibson, sideburns and all. It is numbered 9/50. I didn't know this subset existed and surely didn't expect to pull a /50 card out of a hanger box. Great surprise. Might sell it. Might trade it for similar. For now - I'll enjoy!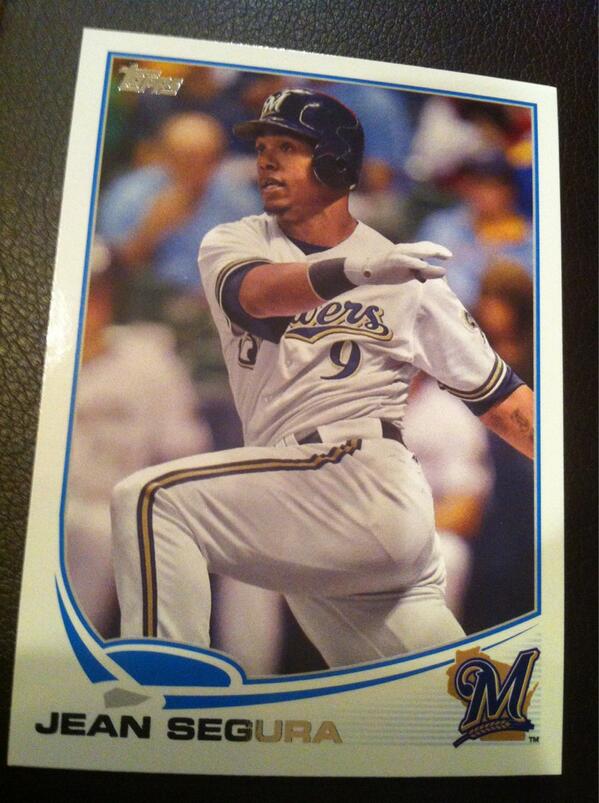 This kid Segura can PLAY and I stand by my belief that if he were a Yankee, Dodger or other large market team - we'd be int he middle of SeguraMania right now. It's almost like he's having the season that Starlin Castro just can't seem to find. What do you guys think? I wish it had a "RC" logo on it. Did he lose eligibility for that last year or something? Sharp card. Might have to keep an eye on this guy.....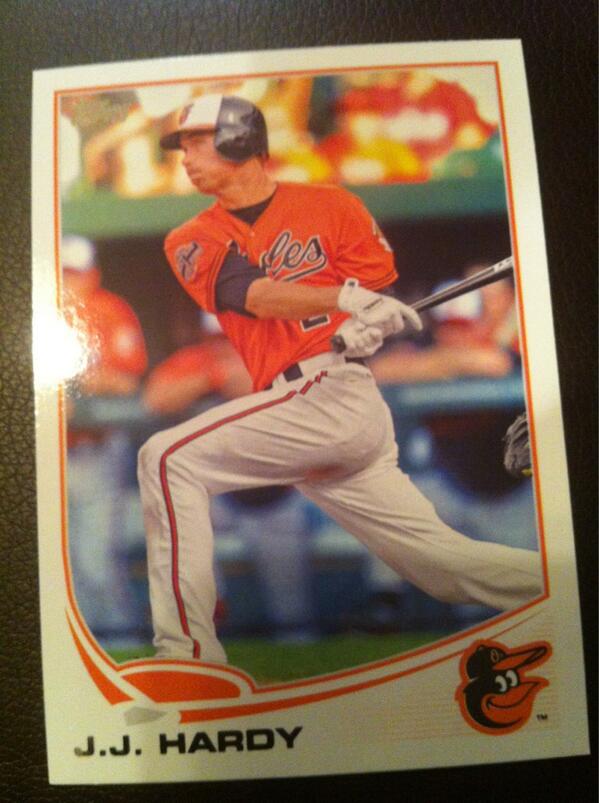 Underrated Oriole. Surrounded by what is currently an offensive MACHINE. Nice old-school style follow-through captured here....I could easily imagine this picture on an '85 Topps card.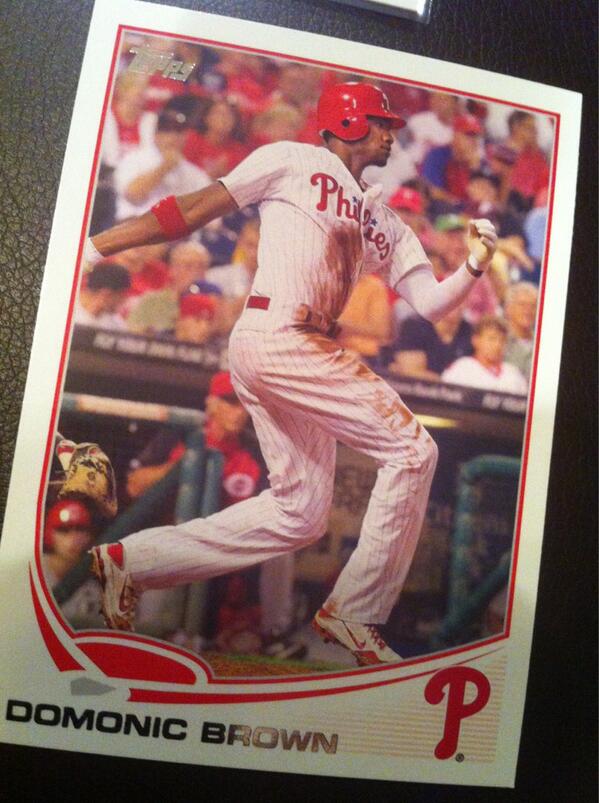 More strong photography here, in my opinion, from Topps. They've really stepped up their game in both Serieseses. Do you guys think Dom Brown can keep his revolution going this season? Will the Phillies have a sell-off here pretty soon?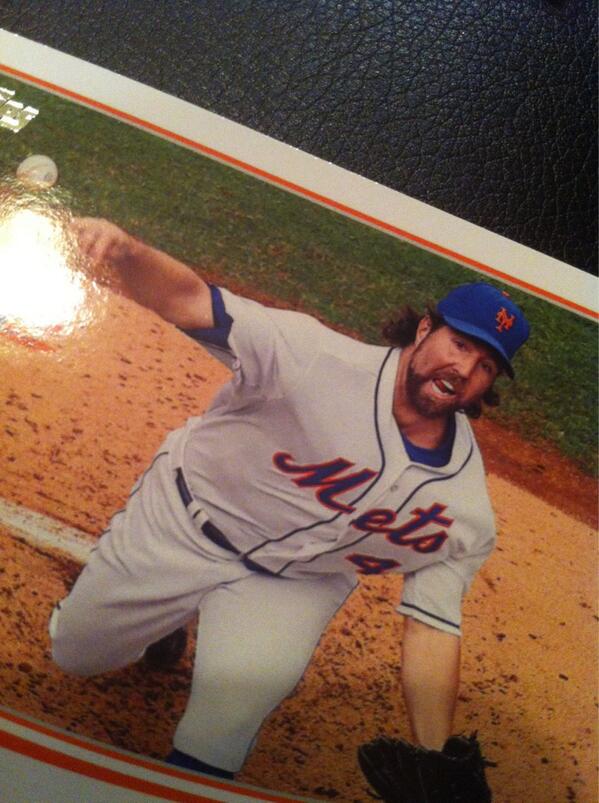 Dickey making his Greinke Face. Love it.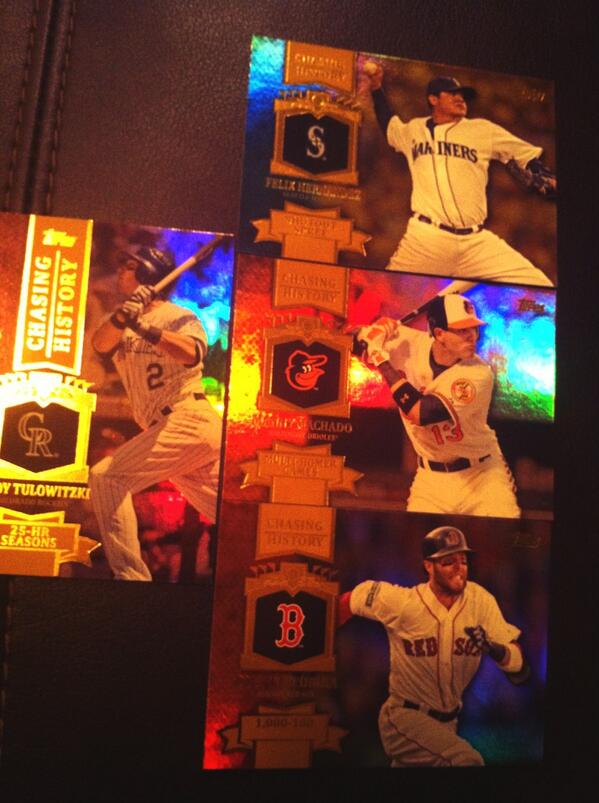 Rainbow-y "Chasing" inserts. Pretty sharp, but I'm not in love. They highlight specific achievements, though. +1. If only there was a Yankee or Brave in there....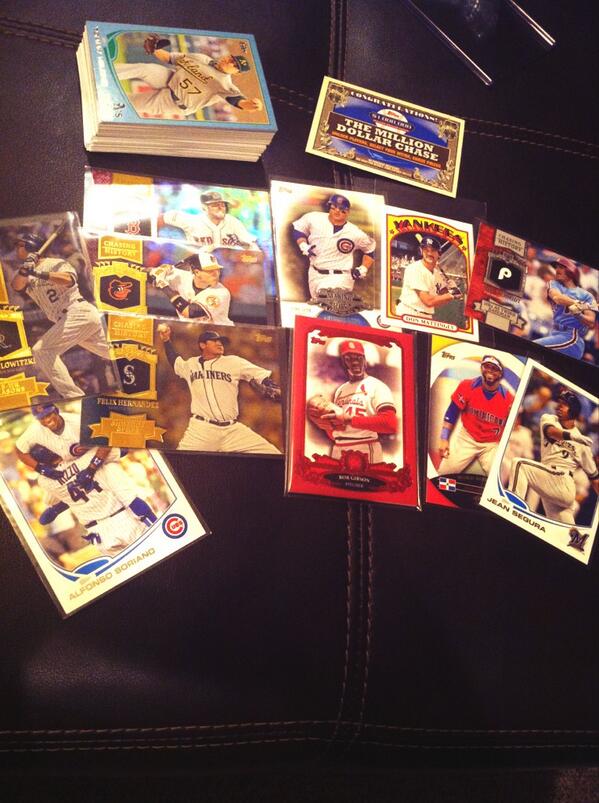 My attempt at a summary photograph of Hanger Box #1. Yes, I was pretty lucky with this one - but even if the Gibson had been an Aubrey Huff base card (no offense, I love Aubrey Huff), I would've been very happy with all of this for $10. Good variety, no dupes, healthy stack.
No Gattis, though!!!!!!!
Box #2...............would I find the White Bear?!?!?!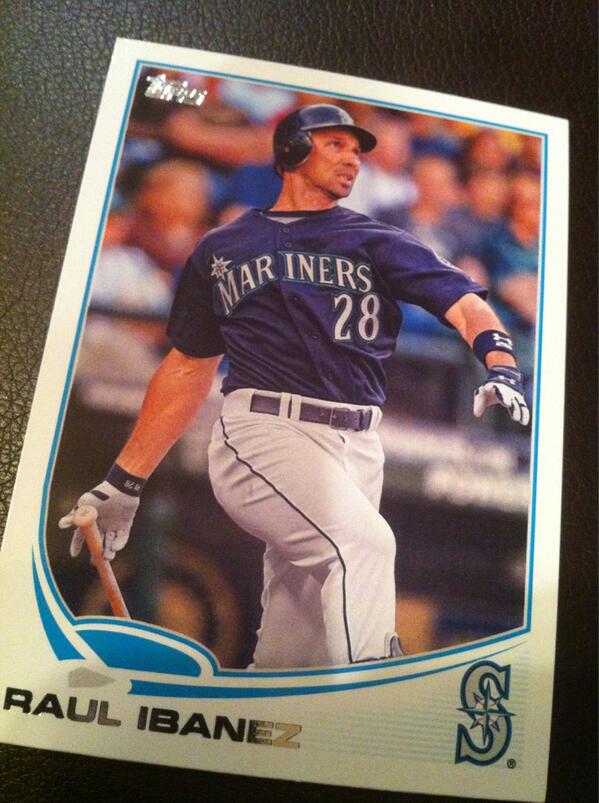 Apparently, epic follow-through's are a "thing" this year. Miss this guy in the Bronx. He's still mashing out west! RAUL!!!!!!!!!!!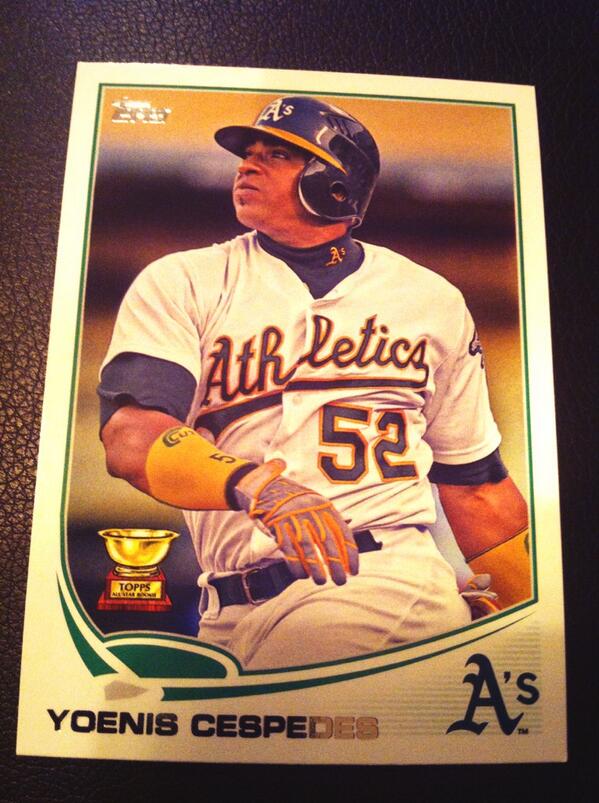 ROOKIE CUP!!!!!!! Love this card. Classic. Is it just me or does Yoenis look really old here?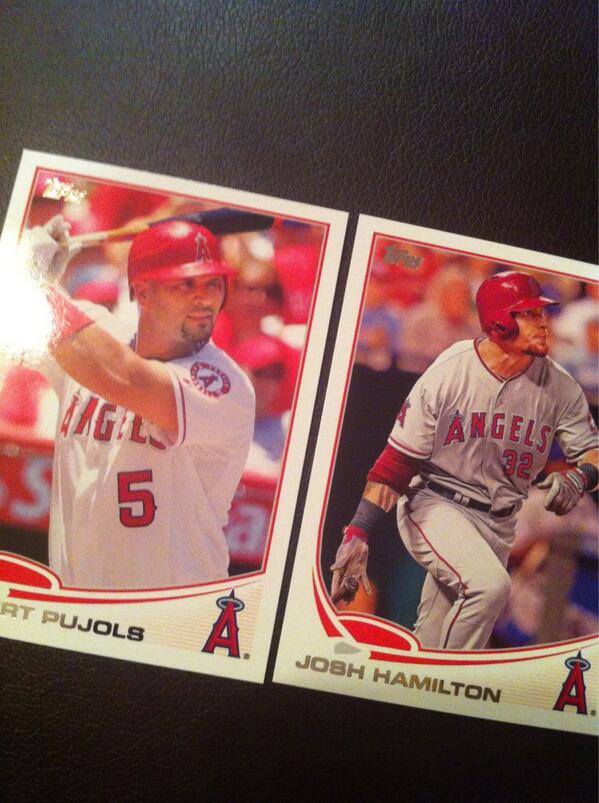 Moving on.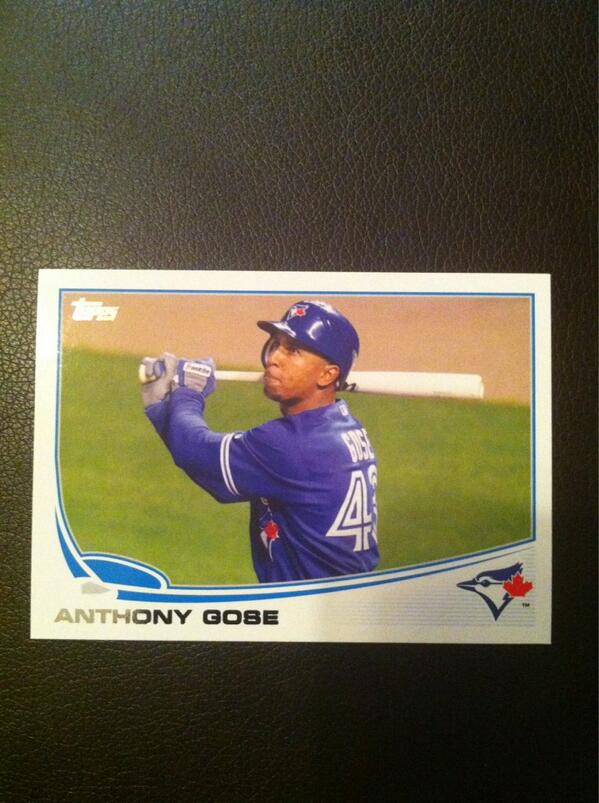 Horrible use of the horizontal design. Seriously?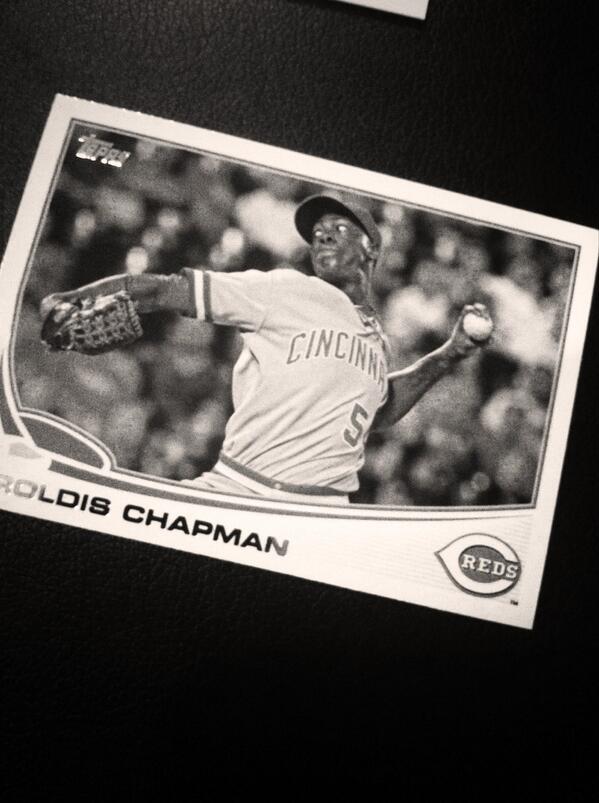 This horizontal picture is better.....AND in black & white.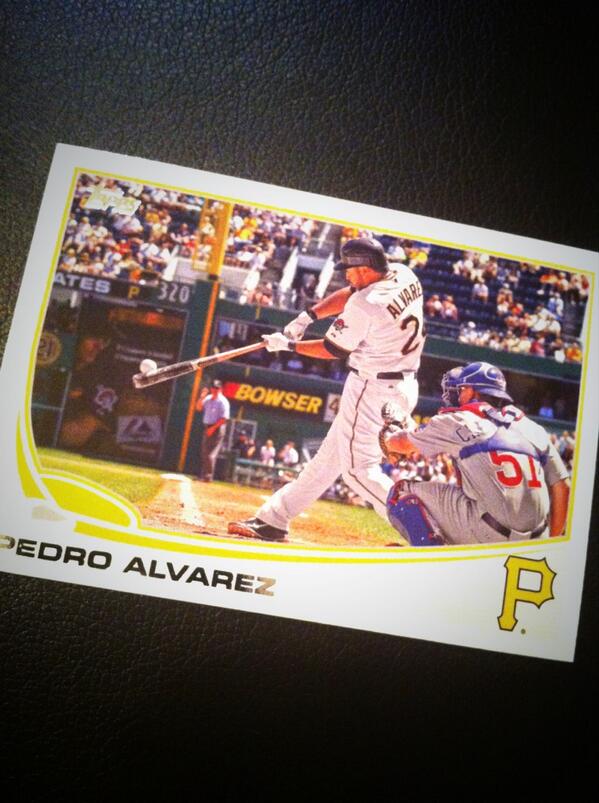 This might be the nicest design/layout/picture/etc card out of the whole bunch. Love this. Almost makes me want to be a Buccos fan!!!! Almost. Good job, Topps!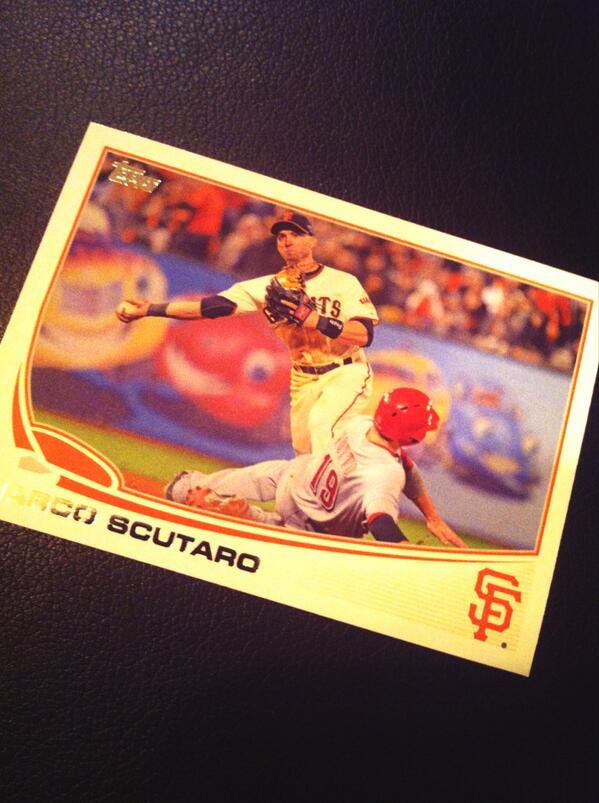 "Scooter turning two over top of Votto" - doesn't that sound cool?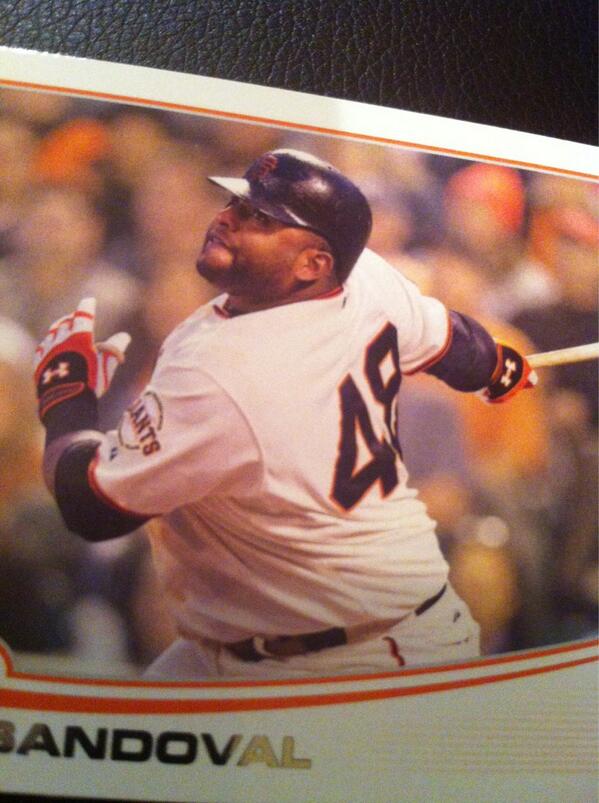 My workout partner.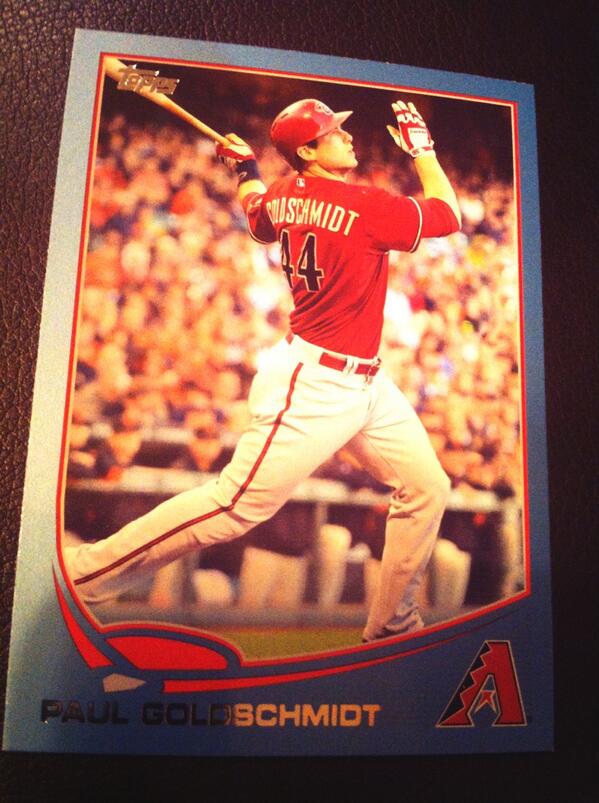 This guy is raking - nice parallel card. The blue and red work really well together. I like it.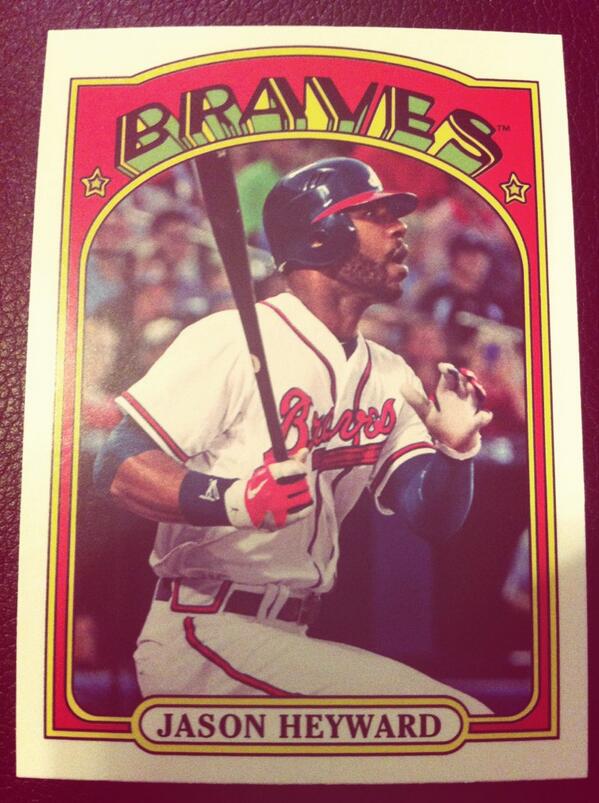 No way I could have asked for a better follow-up to the Mattingly '72 mini - another Bravo!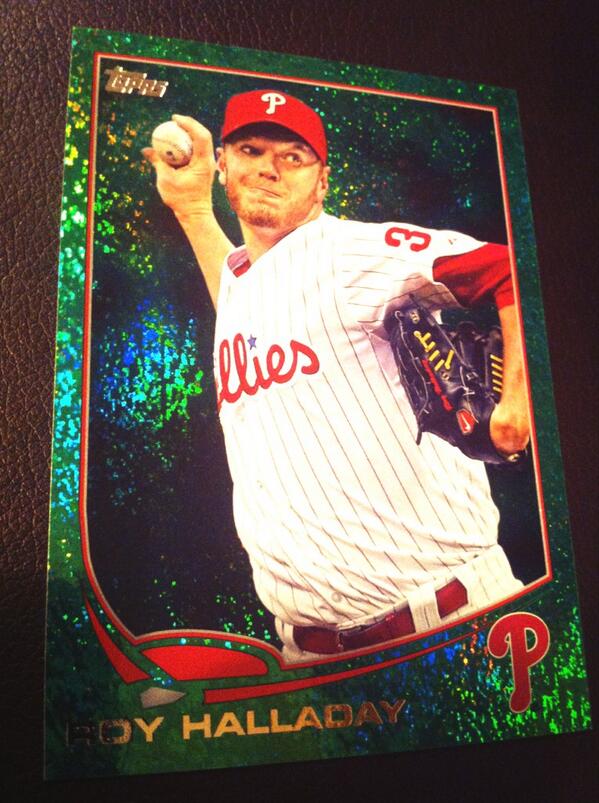 :(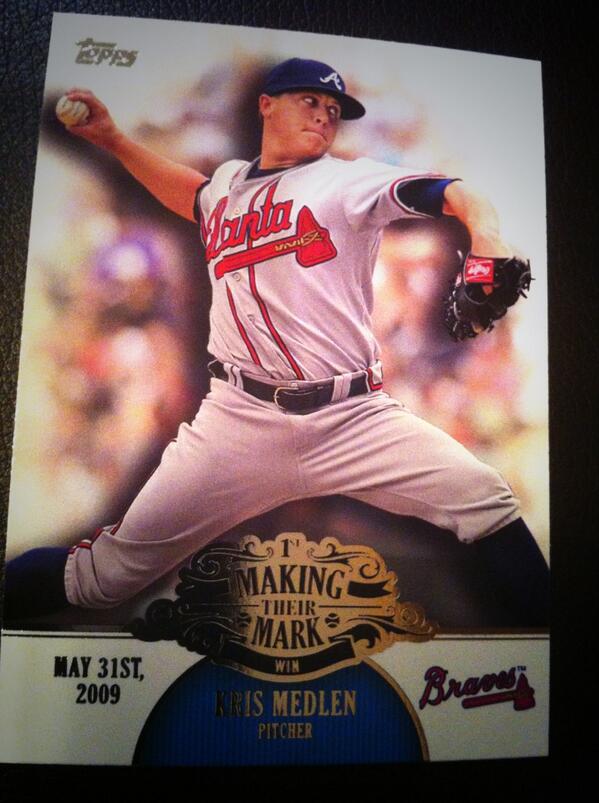 Another great card for my Braves collection - Medlen's first career victory is the event that is commemorated here. I wonder if he'll stick tot he rotation when Beach returns?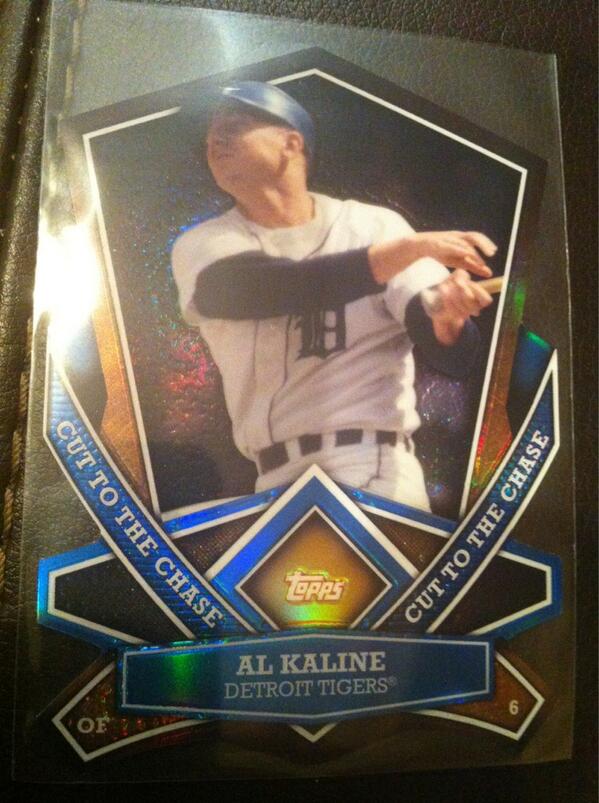 My "Cut to the Chase" offering between the two boxes. Kaline is a favorite of mine from the club in Detroit. Sharp looking card. Not sure if I am going to hold on to it, though.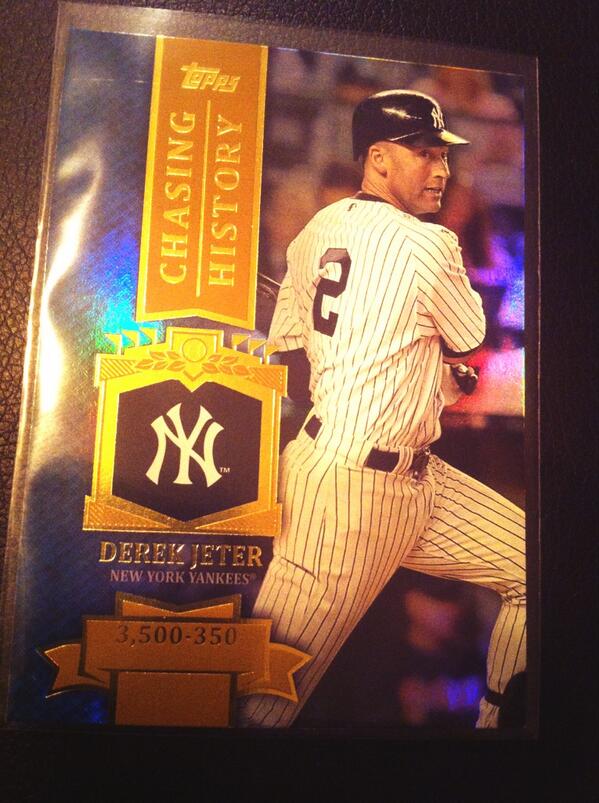 Ah, yes!!!!!! The Captain, himself. Jeter's version of the Chasing History insert is of the vertical variety and I think it shows pretty well. It highlights his pursuit of lofty career numbers. I hope we get a chance to see him play again as soon as possible. The Yanks need him this season and baseball needs him for just a little bit longer.....nice card for the Yankees collection.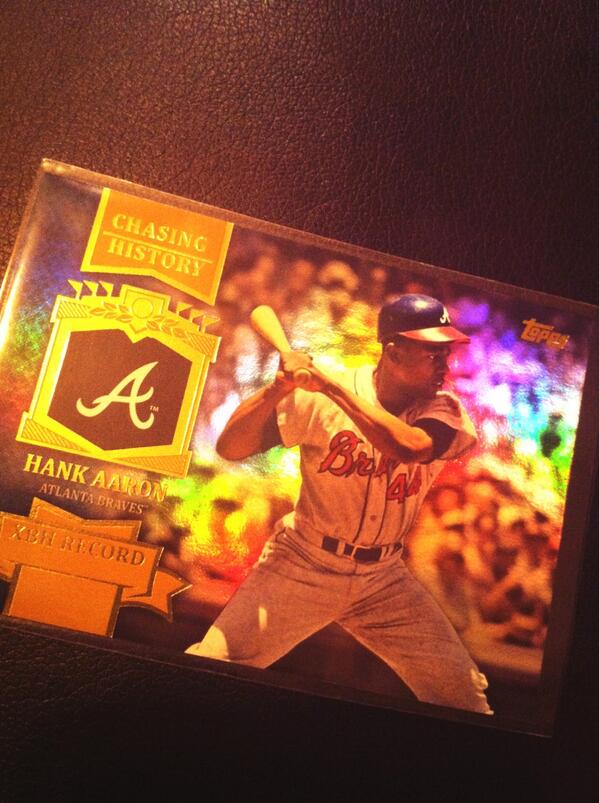 My prayers for more Yankees and Braves were answered with these last two cards. This Aaron insert is a nice looking card and I was able to capture some of the rainbow shine that reflects off of these. The card highlights a rather random stat - XBH Record - but a record is a record. I like this card.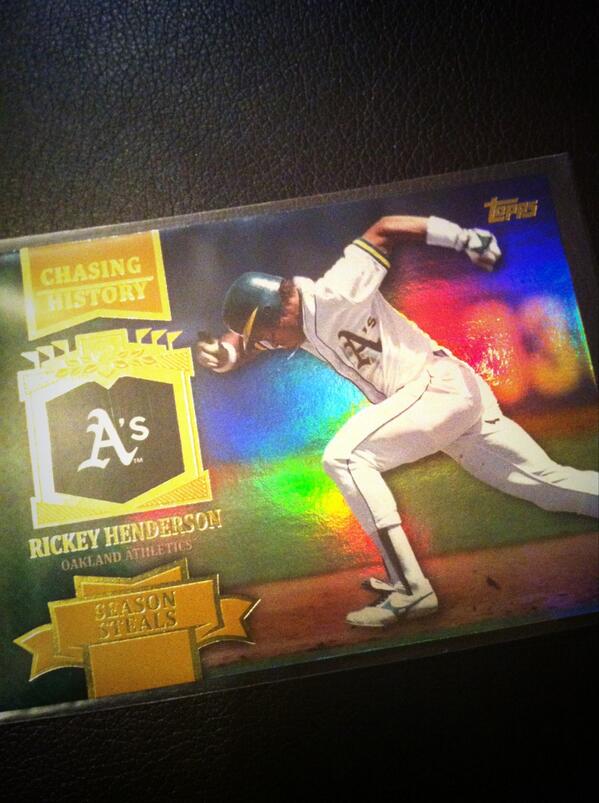 Not a Yankee or a Brave on this one but another sharp looking card from this set. Rickey making the dash to (second?) base was a sight I grew up with and his single-season marks were amazing. I wonder if Mr. Hamilton of the Reds will write himself into this story of speed one day soon?
And how do we wrap up a lengthy post like this?
With a big 'ol MISSION ACCOMPLISHED - that's how!
My friends, if this were to be my final 'pack' of cards for 2013...........I'd be okay with it. Here it is, my first ever Evan Gattis card.....the card I was hoping to pull!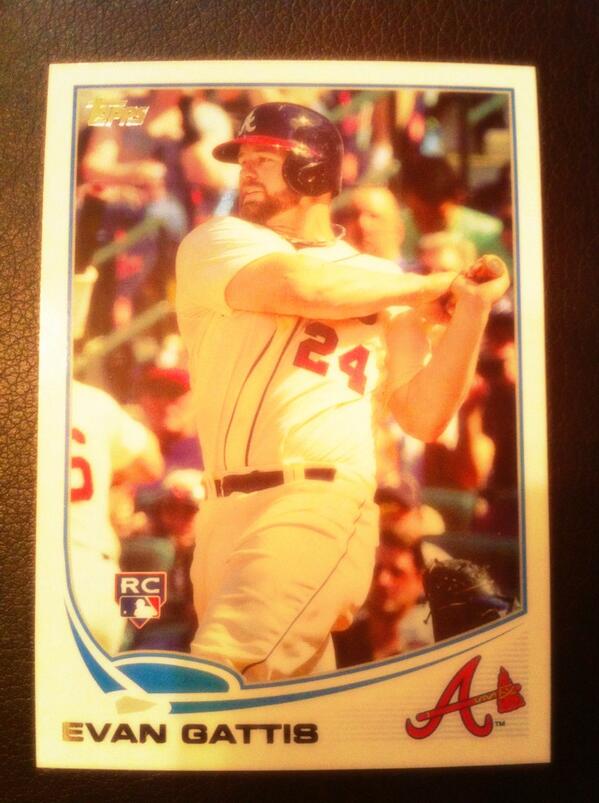 Thanks for reading!